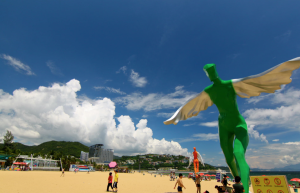 Tourists like Guangzhou because the climate in the city is very comfortable and sometimes rather hot. Spring comes in March already, in May you may experience 40C degrees heat, for many people that is quite difficult to stay in a such a big metropolis city.
The only thing you want - go to the sea. There is no need to buy tickets to Hainan or Thailand beach resorts. Guangzhou is the city you can get everything, even sea beach! Dameisha Beach Park  (大梅沙, Dameisha) is 160 km far from Guangzhou, and another beach Xiaomeisha also is a part of this Chinese beach resort (Xiaomeisha, 小梅沙 - «xiao» means small, so that is smaller beach).
These two beaches located in Dapeng Bay, and thanks to amazing sceneries, luxury hotels close to the green mountain peaks, was called Oriental Hawaii.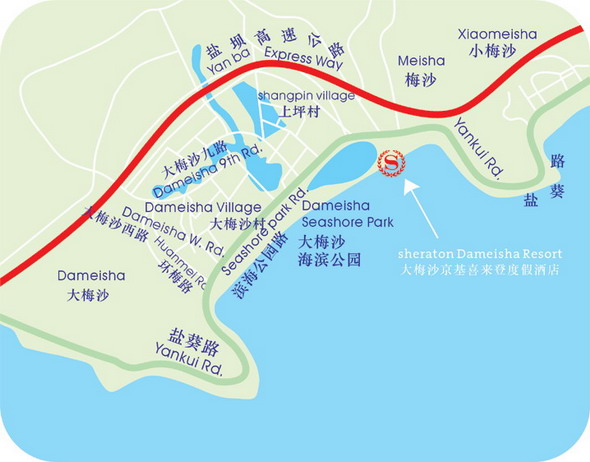 Dameisha Beach lies along the South China sea shore and the beach line is longer than 2 km. Another beach, Xiaomeisha, is less 2 times, but many tourists prefer it for cosy and quite atmosphere. 
Besides sunbathing and lazy time on the beach, Xiaomesha is good for surfers, especially after the typhoon season.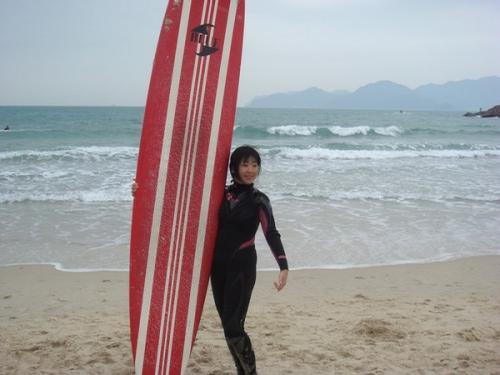 So if you wonder where to surf in China, you should go to Xiaomesha and cop a tube!
Here you may spend not only weekend time, but you may stay here for longer vacations, so that you can see all the beach park - numerous museums (e.g. sea shell museum), trekking pathways, the Turtle island, tropical gardens and various water rides.
Kids will definitely like Ocean sea world (海洋世界, Shenzhen Xiaomeisha Sea World) - that is huge park with 16 theme zones. Every day in Xiaomeisha ocean park you may see shows with dolphins, hair seals, sea lions, and more than 500 kinds of fish from from every corner of the world. Those, who love predatory fish will go the aquariums where more than 30 kinds of sharks live. In the biggest aquarium you may see even a whale shark - however it is about 10 meters long and it's weight 3 tons approximately.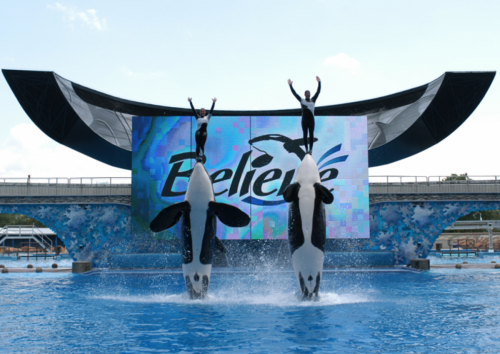 The dream to play and swim with dolphins may come true in this Ocean sea park.
Many Shenzhen citizens and other tourists come to this place specially for dolphin therapy - several lessons of such dolphin therapy help people get well faster, forget about some psychological problems, feel happier.
Xiaomeisha Ocean sea world is not only museum with real sea animals and fish, that is also tropical paradise with magnificent views, like postcards.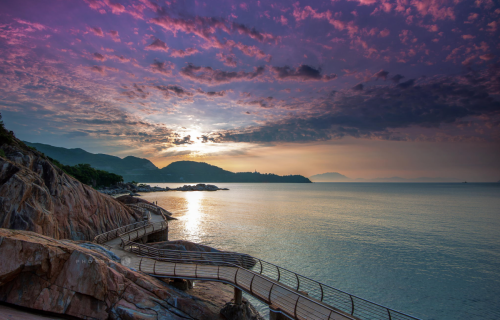 Ocean park (海洋世界) ticket costs 140 RMB, children ticket is 2 times cheaper (75 RMB).
In summer nights the performers entertain tourist with the show «Xiaomeisha nights» - traditional dances, acrobatic feats, illusionists show and live music. 
There is a Moon Square (月亮广场) in Dameisha, which is an area of 4000 sqm. There you may find different restaurants of any cuisine. Not far from the Moon Square rises the Dream Tower (愿望塔), if you buy a ticket to the observation point (83 meters height), you will see Shenzhen city, his and may take bright pictures of sunset. People believe, that when you make a wish, standing in that place, it will definitely come true.
Dameisha is a municipal beach, and the entrance is free. If you want to stay on Xiaomeisha beach you have to pay for 15 RMB ticket.
Big and small beaches are just 1 km far from each other, and if you are bored, you may walk to another spot. The pathway is very green and refreshing after the sunny beach.
If you decided to spend the weekends away from Guangzhou city and sunbathe, just follow our instructions how to reach the sea resorts Dameisha and Xiaomeisha.
Taxi
Of course, that is the fastest way to get there. China taxi is rather cheap, and in case you are not the only one tourist going there, you'd better hire a taxi. For the group of friends that is also very thrifty way.
Possibly, your hotel provide transfer service. When you travel with the family or kids, there is no need to tighten your belt and feel stressed in a public transport.
Booking the transfer service you can ask the driver to pick you up in the morning and send back in the evening. 
The price for such a service is around 1200 RMB, that is minibus for 8 passengers at least.
There is a transportation company  Guangzhou Car Service that offers transfer to Shenzhen area and other places. 
Railroad
Many tourist prefer to go to Dameisha through Shenzhen by high speed train CRH (China Railway Highspeed). There are lots of trains every hour and every day between Guangzhou and Shenzhen cities. 
High speed trains to Shenzhen starting from the South station (Guangzhou South Railway, 广州南站) and arrive to Shenzhen North Railway, 深圳北站.
It takes only half an hour, the ticket price (second class) is 74 RMB.
Return trains stop at 11 p.m., so if you do not plan to stay for night in Dameisha, you have enough time to come back.
The actual schedule for Guangzhou - Shenzhen trains please check Travel China Guide.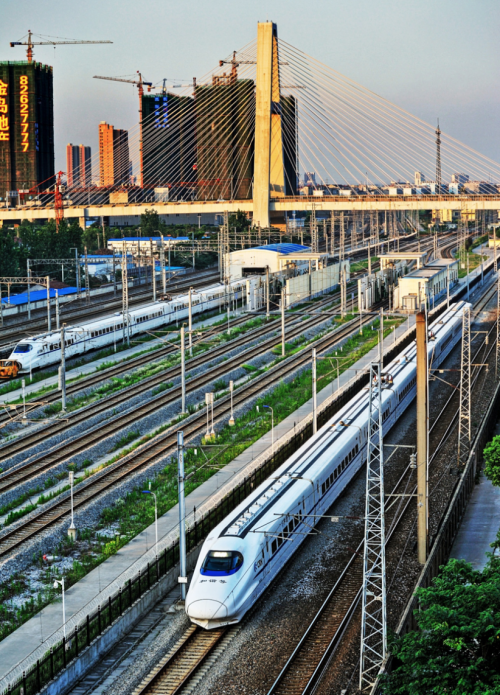 When exit from the railway station, use a taxi or public transport.
Taxi drive will cost around 130 RMB, and at takes 1 hour. 
Choosing public transportation, consider taking subway firslty, then you need a bus.
Go downstairs to subway hall, and buy a ticket to Luohu station / 罗湖地铁站 (green line).
Then take a bus 387, the final stop is Dameisha. The ticket costs 5 RMB, the bus goes 1 hour 40 min.
From 国贸 / GuoMao subway station (the previous one) there are more bus routes to Dameisha  №1, 21, 362, 103.
Bus
Take the bus from Guangzhou Passenger Transport Station (广州汽车客运站, subway station called Guangzhou Railway Station, exit H) with Shenzhen destination (Luohu bus and railway station 罗湖火车站). 
The bus ticket is cheaper than railway ticket, so that is the way for budget tourists. Price is differ from 30 to 40 RMB, it takes approximately 3 hours to reach Shenzhen city.
Take off the intercity bus and find the local bus 387. The stop terminal is exactly at the entrance of Dameisha beach park.