When you travel in China, that is hard to say what you see in the next city. Macao is a very unique place in China (that is special administrative region of PRC, Macau is also pronounced as Macao).
Macau is an amazing city, where you meet two cultures - almost 300 years the territory of the island was a Portuguese colony. 
Nowadays Macau is supposed to be a Chinese city, administrated by the government of PRC. Due to the international history of this place, Macau also has another names like Macao, Aomen and  澳门.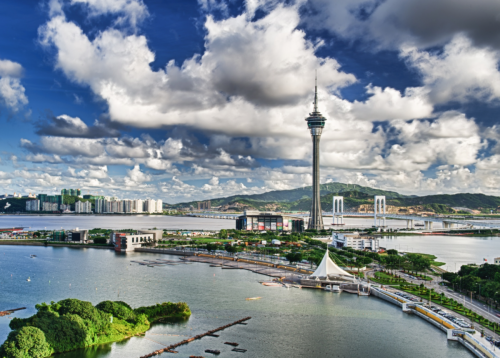 When you find yourself in the streets of Macau city, you can see skyscrapers with «Casino» lights, that hide small and shabby european Portuguese houses and villas. That reminds cinema decoration for a historical movie taken in Asian tropical city.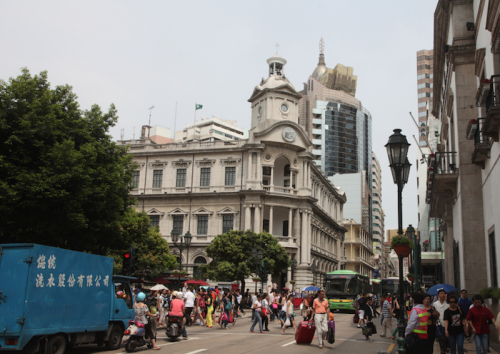 There is Macau Tower (338 m height) in the south part of the city, from that view point tourist can see Macau, Guangzhou, Zhejiang river and some Hong Kong islands. Those, who love extreme sports may buy a ticket for the world highest bungee jumping - the speed would be around 200 km/h.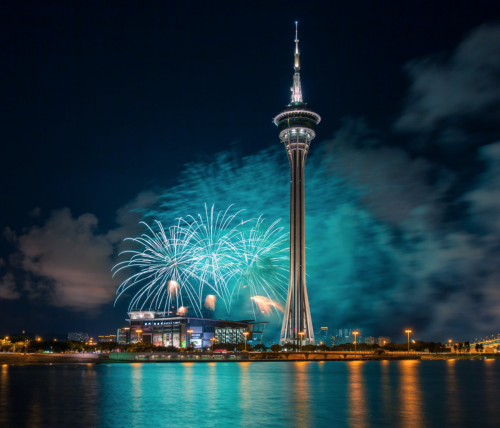 How to get Macau.
Mostly the tourists come to Macau from China, first they visit Shanghai, Beijing, Guangzhou and other famous cities. 
If you go to Macau from Guangzhou, there are several ways to reach «China Las Vegas» Macau.
The easiest way - direct bus starting from Guangzhou center district and stopping at Macau center. 
The buses start from Guangzhou hotels, and the final stop is also close to Macau hotels.  For example, one of the route  is between Hotel Landmark and Grandview Hotel.
Tianhe Bus terminal (Tianhe Bus Station 天河客运汽车站) and Guangzhou Central terminal (Guangzhou Bus Station 广州客运汽车站) also provide daily routes to Macau border (Zhuhai).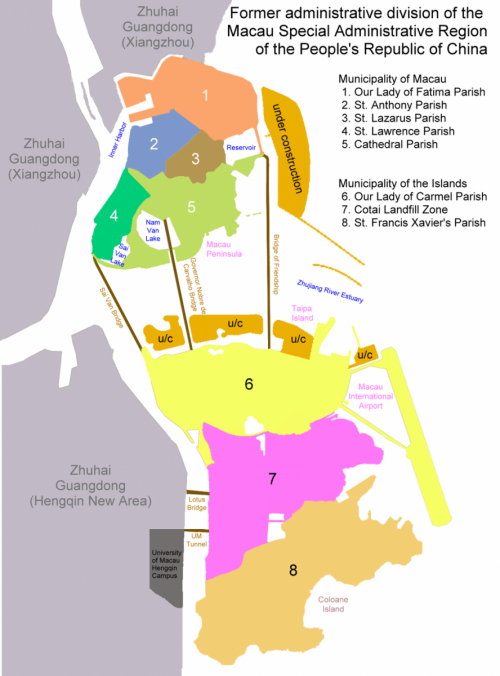 Some tourists find more comfortable the ferry. The ferry starts from Guangzhou Nansha port, the routes are held by TurboJet company. The ferry stops at Macau terminal. besides Guangzhou, there are additional routes to Hong Kong (Hong Kong island and Kowloon island), also Shenzhen and Zhuhai available. The actual schedule may be checked on the official page of transportation company.
Macau visa for citizens of Russia, Ukraine and Belorussia.
Citizens of Russia, Ukraine and Belorussia may get visa upon arrival on the border, there is no need to apply in advance through the consulate. However this does not make the process of passport control easier, not every tourist may enter Macau, especially young single girls may get problems when apply for visa.
Macau is a big casino, the city of big money and temptations, that is why Macau government is very strict with passport control rules and the city policy. 
Passing the passport control you should have cash money (50 dollars per day), and if you try to convince the customs officer, that you have enough money on a bank card, that may cause troubles. 
Another reason to fail the passport control - lack of a return ticket. If you work or study in China, you may be asked to provide student's card or your work permission. Those who live in china and have just business visa and no return ticket may be refused getting Macau visa.
You should provide Macau customs with the documents which show that you are a reliable person.
Young and pretty girls may evoke suspicion, as in Macau prostitution is very common, that is why the customs procedure for women is longer and more detailed than for men. 
A customs officer will check your docs and then you should queue in a special line waiting for an interview. You should clearly answer about the reason of coming to Macau, and tell about your education or profession, place of living.
Many girl tourists advise to put on casual clothes and do not make up to look unpretentious.
Visa fee is 100 MOP, you may pay it by Macau money MOP or USD, HKD, or Chinese yuan.
Macau attractions.
Macau is a very interesting place with many sightseeings - the Portuguese heritage,  quiet and green parks, man-made lakes Nam Van and Sai Van, but every tourist comes to Macau especially for the most famous casinos. 
The symbol of the gambling city - Grand Lisboa Casino that looks like lotus flower and it's height 258 meters. 
Inside the building you may find gambling halls, 5-star hotel and restaurants with european and asian cuisine.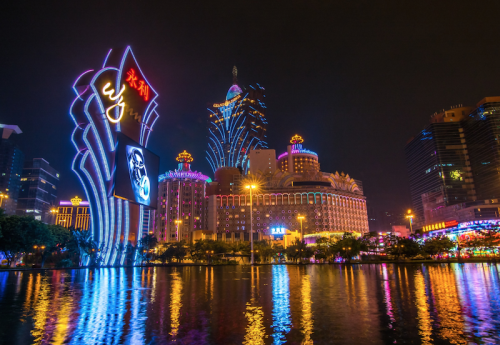 Macau restaurants.
One of the most interesting restaurant is Robuchon au Dôme (Michelin rated, 3 stars). That is french restaurant with magnificent view of Macau lights.
If you prefer asian cuisine and want to try Macau food, try one of the following restaurants:
888 GOURMET PLACE, Avenida da Amizade, 2º andar do Casino "Sands", Macau
CAFE ROSE GARDEN, Rua de Nagasaki, n.º 43, r/c da Nova Sede da Agência Xinhua, Macau
COZINHA PINÓCCHIO, Rua do Sol, n.ºs 13 – 29 e Largo dos Bombeiros, n.ºs 34 – 56, Edf. Comandante M.D. Pina, r/c, cave, Kok-chai, 1º andar e 2º andar, Taipa
Macau is an international city, so you will easily find restaurants with steaks, pizza, pasta or Chinese noodles. 
The biggest choice of restaurants is Senado square. There is a restaurant, Long Kei, which was opened 100 years ago, there you may try canton cuisine. 
Another famous casino of Macau is Venetian Macao, or venice. That is not just a building, that is a small city occupying 1000 sqm and it has more than hundred thousands of gambling machines, concert halls, hundreds of stores and a lot of international restaurants. 
A lot of wealthy Chinese and Hong Kong people come to Macau just for a weekend to spend vast sums of money in casinos and restaurants. 
Besides casinos, which you will definitely visit, we advise you to check another sightseeing places of Macau:
Guia Lighthouse
Ruins of St Paul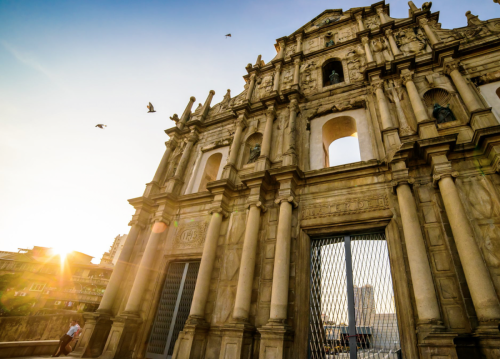 Senado Square
Casa Garden
Macau Museum
Wine Museum of Macau
Vasco de Gama Garden
Tea Culture House
Mount Fortress 
Lotus Square
Holy House of Mercy
Grand Prix Museum
Cable Guia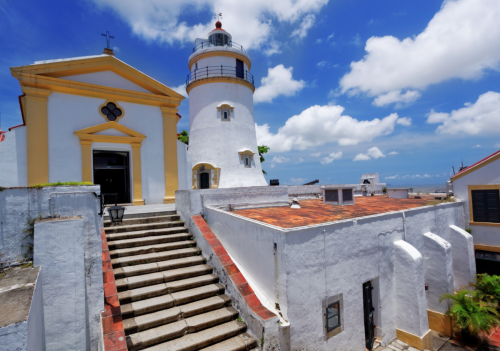 The full list of Macau attractions and sighsteeings you may check on the official tourist website of Macau.
When you buy a trip package to China, also plan the visit to Macau city - there you will see how european and asian culture may complement each other and still be unique.